Beautifying Concrete with Acid Staining
Make your home or business the area's standout with concrete acid staining in Cleburne, TX. Staining is an effective decorative solution for both new and aged interior and exterior concrete slabs. At Aztec Concrete Staining, we also offer concrete scoring to give your surfaces a distinctive look. Contact us for recommendations about how to enhance your property.
The Ultimate Flooring Solution
Thanks to recent advances in polishing equipment and techniques, we can now grind concrete floor surfaces to a high-gloss finish that requires minimal maintenance. Many facilities now request this service as a more affordable alternative to the installation of marble, granite, tile, linoleum, or coated concrete. This same process can make residential floors resemble polished stone. Additionally, Stone Tone stain reacts with the minerals in the concrete to mimic the look and feel of natural stone.

During the staining process, you can expect variations in the tone and uniformity of color. Acid stain reacts differently from slab to slab. As such, each slab will have a unique variety of coloration patterns, but they will add to the overall rich appearance of the flooring. However, you should remember that acid stain is translucent, so it will not conceal any defects in the concrete.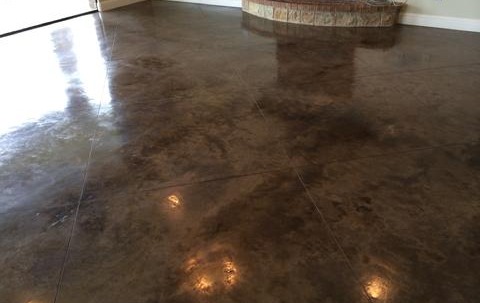 Concrete staining transforms an ordinary concrete slab into a beautiful, luxurious finished floor that resembles marble or glazed stone. Scored and stained concrete creates the appearance of a very expensive floor at a fraction of the cost.